I want to start out by wishing and praying health and wellness to everyone. This is an unusual time we're living in. It may feel like this will last forever, but like everything else, this too shall pass! The best thing to do is stay strong and positive. Music heals our mind and soul, which effects our bodies, so this is a great time to consider on line music lessons!
Taking music lessons is normally considered a non-essential in life, but I disagree. Without music and the arts, we're only surviving on this planet. Many studies have been taken to prove how music improves academics, confidence, and joy in one's life. If you're already taking music lessons, I hope you continue. And since in-person lessons can be challenging, this is the perfect time to try out on line music lessons with your instructor. If you or your kids have been thinking of taking music lessons, now is a great time to try virtual music lessons, when so many outside activities have been cancelled.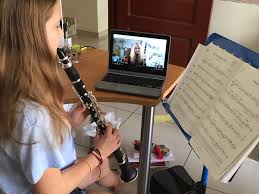 Melody Music Studios has offered on line lessons music lessons since 2010. I didn't know how people would react to the idea at first, or if it would work for those that tried it. What started out as an experiment has continued to grow in popularity. I will admit at first most people turned down the option without hesitation. As the years have passed, more students and parents of students are giving the idea a chance. It may not be the same as in-person lessons, but it's a close second. The challenges can be mostly with technology, which will only get better as technology improves. For people that live in a remote area with no music instructors available, or unable to travel, this is a life saver.
What I found for those that gave on line music lessons a try is they discovered it wasn't so bad! At Melody Music Studios, we offer a one business day grace period to cancel after the first lesson. I especially made a note of the students taking on line lessons, and found 9 out of 10 DID continue their on line lessons. That gave me the confidence to continue offering on line lessons. In-person lessons are still most preferred, but more and more are giving on line music lessons a second look.
I know a lot of schools and work that involve interaction are taking advantage of on line or remote technology. We're very fortunate to be living in a time where this is available. Past generations did not have this when going through a situation like ours.
So the bottom line is we need music lessons now more than ever! Consider taking on line music lessons if you're unable to take in-person lessons. You may find it better than you thought and healing for the mind and body.