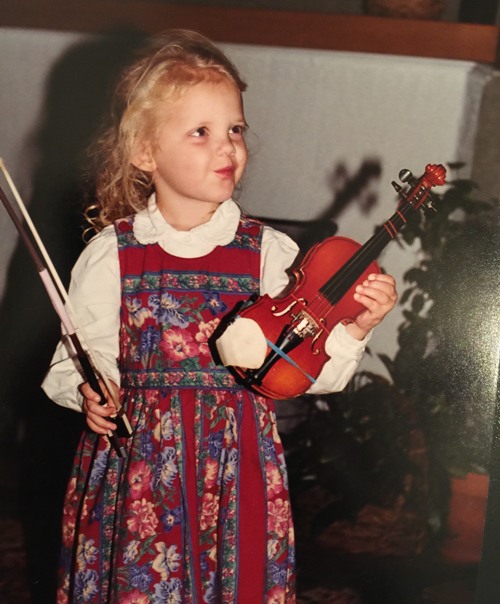 "Music can open up opportunities and experience other cultures and make connections with like minded people in a way that almost no other discipline can".
Hello! My name is Anna, and I have been playing music since I was four years old. I am 23 now, so that makes about 19 years! I have always enjoyed listening for harmonies and the chord progression behind the pieces and songs I would play. From an early age, I would learn my Suzuki Method pieces by singing them and humming them throughout the day. After awhile I would have them memorized because I was constantly going over them in my head. This is also something that caused me to fall in love with music. I would prepare for recitals by playing the notes on the page, but I really liked to improvise my own tunes too. This was an activity that made me realize how infinite and inspiring music can be.
When I was in the third grade, I tried out for an orchestra for elementary schoolers, in Northern Kentucky. I made the orchestra and this was the first time other than my mother's chamber music groups where I got to listen to all the parts together. I now had access not only to the violin part, but also to the cello, viola and bass parts, as well. I loved preparing pieces for our concerts, where we would play in the Northern Kentucky University auditorium and I actually had the experience of playing on stage in front of an audience. This made violin playing feel very serious and real to me, and it made me want to get even better. Around that time I also played at numerous recitals, which my mom, a violin teacher herself, put on at nursing homes and our elementary school for Christmas. I think that playing the duets and solos at those shows in front of other people gave me a boost in confidence and also provided the training I would need for auditions, because it was one thing to play a piece in front of your family member or even to have a piece down pat on your own, but to play it in front of people you don't know can be a bit more nerve-racking. The next year I auditioned for Cincinnati Junior Strings, a kids' orchestra in Cincinnati that was a little more competitive because its goal was to prepare kids to play in the CSYO, or Cincinnati Symphony Youth Orchestra. I got into the orchestra and made amazing friends, because every Sunday, we had rehearsal and during the break times I got to talk to the other students who were learning the violin just like I was. This orchestra gave me the opportunity of a lifetime when in the summer of 2008 I was able to go on a trip with the ensemble to New Zealand and Australia in the CJS "Down Under" Tour! My conductor, Dr. Gerald Doan, had many friends and connections in that part of the world and took his students there every four years to play at schools and churches and sight see the beautiful landscape. It was the first time I got to really experience another culture, and I thought it was marvelous. I still look up articles from Wellington New Zealand, Sydney Australia, and Christchurch, New Zealand every once in awhile because it brings back memories of that extraordinary experience for me! All this to say, music can open up opportunities for you to experience other cultures and make connections with like minded people in a way that almost no other discipline can. I had a blast staying with host families there and playing the songs we had practiced so hard in the local schools. I feel like we also brought a treat to the schools that we played at.
In high school, I played in two orchestras in different years: Blue Ash Youth Symphony Orchestra and Cincinnati Symphony Youth Orchestra. Both were a wonderful experience. I auditioned my freshman year for the more competitive city-wide orchestra, Cincinnati Symphony Youth, and didn't make it my first year, but that just became part of my story because the next year I practiced seven to eight hours a day in the summer before my audition because I was determined to make it! Where there's a will, there's a way. I made it, and in Cincinnati Symphony Youth I got to play not only with other string players but with brass, woodwinds and percussion as well. Some pieces even called for elaborate piano parts! We played fun pieces like Pirates of the Caribbean as well as Classical masterpieces like those by Franck and Debussy. I loved playing in a high school orchestra because everyone behaved themselves so professionally and played with mastery and poise. It also helped to grow my spirit of adventure and passion for creating music because I was constantly listening to all the parts and trying to add my own riffs and harmonies and melodies (not in rehearsal or concerts, just in my head and numerous journal entries!). I write songs in my spare time and I see my experience in orchestra as where that all began. I think what can set a skilled musician's songs apart is how elaborate their pieces become because they have been listening for all the layers of the music for so long. I hope to instill these same values of creativity and wonder in my students. One of the things I want to do when I teach is to play the chord progressions that you may not be hearing so that you can train your ear to listen for all the beautiful treasures hidden beneath just the notes on the page. For instance, even just the simple beginning tune Twinkle Twinkle Little Star has a variation part that goes along with it that I will play for my beginning students on the violin while they are learning it. I used to teach free lessons in a church ministry in high school and when I played these variations and harmonies with the students, they became noticeably more engaged with the material. It helped them to want to practice so that the could keep up and play in time with the beautiful variation, and in turn it causes them to strive for a beautiful sound when they were playing, too.
I also love to improvise and I hope to be able to work on that with all of my students as well. I believe improv is a valuable skill because it has allowed me to just pick my instrument up and play something that can touch other people's hearts with ease instead of having to rifle through a book to find what I'm going to play. Both sight-reading and playing by ear are important in my opinion, but I would love to teach a mix of both so that my students can do either if they want to.
Thank you for checking out my page, and I hope to hear your story with music when we meet in a lesson!
Sign up for violin lessons with Anna and get started today!