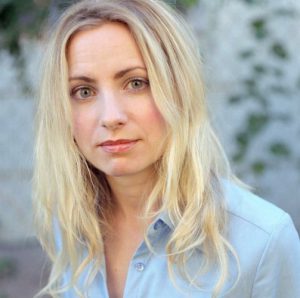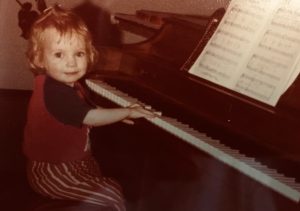 Laura was born in a suburb of Chicago Illinois on December 23, 1976. This Christmas baby was the youngest of five children and named after the song "Laura." Before Laura was even born, music was destined to be in her life. Her father bought a Baldwin console piano for her Mother when Laura was very young and Laura was instantly drawn to the piano. Her Mother purposely waited until Laura could read at the age of six to pursue lessons and recalls never having to force her to practice. She did it for the pure joy of it.
Although Laura was Classically trained, she wanted to play what she heard on the radio. She would set up her cassette player next to the piano and sound out the notes. Around the age of eight, she began composing original compositions. Laura attended High School at Mother McAuley, a private college prep school. She joined the choir and was the piano accompanist for three years. When she was fifteen, she released her first album with the little bit of money her Grandmother left her. While in High School, Laura also pursued acting and modeling. She was placed in multiple TV and print ads.
Laura Left the security of her home and family in Chicago when she was eighteen to attend Arizona State University. While at ASU she composed the music for two theatre productions. She was also the keyboardist in the band Surrender Dorothy, which was chosen to open for the 1999 Phoenix Lilith Fair with Sarah McLaughlin, Sheryl Crow and Martina McBride. She then composed the original score for the independent film, An Intimate Friendship, by Filling The Gap Productions which also featured music by Melissa Etheridge.
Throughout Laura's relationship with music, there was always one thing missing. Since as far back as she could remember she had an inability to project her voice. Beyond a normal speaking volume, a scream would turn into a whisper of sorts. She always yearned to put vocals to her compositions but was physically unable to. In college she met with Doctors that diagnosed her with right vocal cord paralysis. She was happy to finally have an answer to her limitations, but was saddened by the prognosis. Surgery was an option where they could move the paralyzed vocal cord closer to the functioning one to create sound, but Doctors stressed that although she would be able to project her voice, she would never be able to sing. Laura wasn't discouraged and proceeded with the surgery. With her new voice she began to teach herself to sing and play guitar based on her knowledge of the piano.
Laura graduated with honors from ASU with a Degree in Broadcasting and a Minor in Music. After graduating, Laura worked at Steinway Hall in Accounts Payable Receivable. She took the job with the stipulation that she could play the Steinway pianos on her lunch break and they happily obliged. Soon a friend asked her to teach her niece how to play piano which led to the start of her teaching career. She loved teaching beginners where she had a clean slate to form good habits and assist in training their ear. Teaching group lessons through a local company soon followed while she pursued her singer/songwriting career.
The drive inside Laura to sing her own songs surpassed the limitations once set by Doctors. She later went onto release four albums under her indie label Lolo Records in which she not only played the piano and guitar, but sang her original compositions. As a member of Chicks With Picks she had the opportunity to open for Country artist Sarah Buxton. She later had the privilege to open for another one of her mentors, Edwin McCain, on the Cayamo music cruise.

You may have also seen Laura on NBC's #1 rated show, Fear Factor. In a brave attempt to win $50,000 to assist her career, she had the rare opportunity to ride a bull and eat cow brains. Although she did not win, it only proves how fearless Laura is in life and as an artist.
In 2010 Laura packed up her belongings and musical instruments into her car and drove from Arizona to Nashville TN. She no longer wanted to get paid to perform cover songs at local venues where there was a glass ceiling to her songwriting career. She quickly became affiliated with NSAI and ASCAP. Songwriting venues enforced a quiet atmosphere and she knew she was in the right place to be heard. She has performed at the famous Bluebird Cafe, The Listening Room, Douglas corner, Bobby's Idle Hour and numerous other writers rounds. Publishers and mentors have recognized Laura for her melodic storytelling with a poetic undertone.
Laura is grateful for the gift of music and desires to give that gift to others through teaching and volunteer work. She is currently a music volunteer at Alive Hospice where she plays piano and guitar for the residents. She is also affiliated with Melody Music Studios which enables her to reach out to more students. It is a company which shares her same joy of music and parallels her tenacity with similar values and unwavering excellence.
At this point in her life and career Laura desires to get back to basics and simply enjoy music. Beyond the limitations of the Nashville format based on financial gain, she believes the song itself exists in its' purest form. She is now in the studio working on songs for her fifth album.
The best way to describe Laura's musical journey is through the lyrics to her well received song, The Songwriters. "When we stand in front of Jesus and he asks us what we did our pockets will be empty but we'll say we used our gift. And when we play for all the angels and they ask us who are we…… we'll tell them we are the songwriters of Nashville Tennessee. I'm just one of the songwriters of Nashville Tennessee."

To view Laura's full bio, click here for her location, rates, schedule, and to sign up today!