☰ Menu
Applying for music teaching jobs at Melody Music Studios
Hello, thank you for your interest in teaching at Melody Music Studios. My name is Kathi Kerr, owner and founder of Melody Music Studios. I started MMS in 1989 from an overflow of my own students (piano), and soon began hiring instructors for all instruments and voice. My passion is seeing a student learn and grow. I believe in offering professional lessons taught in a fun and positive way, and I'm looking for enthusiastic instructors who love to teach like I do!

Since Melody Music Studios takes care of policies, marketing, and billing, all you have to do is what you do best - teach!
To apply, simply click the Apply to Teach button below. Along with the application, you must also submit your resume, a performance recording (audio or video), and a 1-2 minute introduction video (not a professional or performance video) from a smart phone or camera (YouTube videos accepted for both performance recording and introduction video). Please answer the following questions:

1. Introduce yourself using your FIRST NAME ONLY (no personal contact information please)
2. Briefly tell me your musical story, why or how you got started with music, or who/what influenced you to choose the musical path you took
3. Why should a student take lessons from you (a little plug about what you have to offer to a student).

*Please keep in mind this video will be posted on your bio page on our website, if hired.

For your resume and recording, you can enter a website on the application (there's a special field for that), or e-mail everything (including the intro video) after you submit the application. A page will appear after you hit submit with an e-mail link.

A few highlights about teaching at MMS:

1. Our contract is not exclusive, so you can continue teaching for yourself or other studios while receiving students from MMS.
2. You choose your own schedule, the number of students you want, and whether you want to teach in the student's home or your own home or professional studio. MMS does not offer a studio space. 3. If you travel, you can choose the mile radius you travel to.

Thank you for your interest in applying at Melody Music Studios. I look forward to hearing from you.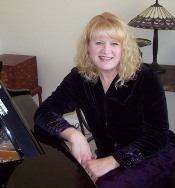 Kathi Kerr
Owner